SEPARATION AG automates quality control
GREIWING subsidiary invests in new analyzing technology from market leader OCS
Black specks, color changes, metal and dust reliably detected
PS25C pellet scanner inspects up to 12 kilograms per hour at a resolution of 30 micrometers
Greven (Germany) / Eynatten (Belgium), September 19, 2023 – Optimized control: SEPARATION AG, a company out of Eynatten, Belgium, that is part of the GREIWING Group and specializes in the sorting of plastic granules, is significantly increasing the quality of its services by offering its customers automated (and thus optimized) quality control using innovative analyzing technology from Optical Control Systems (OCS) GmbH. With the PS25C pellet scanner, both highly transparent and opaque granules are analyzed on a vibration plate by a high-performance color matrix camera. This method reliably detects contamination within a few minutes, ensuring a smooth production flow.
"We guarantee our customers high-quality services. This makes comprehensive quality controls using optoelectronic sorting indispensable. With the innovative analyzing technology of OCS, we can even inspect samples at a resolution of 30 micrometers," said Jürgen Greiwing, managing director of GREIWING logistics for you GmbH.
SEPARATION AG has been part of the GREIWING group of companies since 2020 and has specialized in the optoelectronic sorting of plastic granules for the last 20 years. From its location in Eynatten, Belgium, it offers comprehensive quality improvement processes. In the automotive and pharmaceutical industries in particular, top quality is key since even the slightest contamination can be visible in the end product and can potentially result in malfunction.
To ensure that the separated goods meet the customer's quality requirements and are free of even the smallest foreign particles, random samples of usually 500 grams are taken during and at the end of the sorting process. The approximately 5,000 granules contained in one of these samples are scanned by the PS25C for any defects within minutes using modern LED technology and a 3-CMOS industrial camera.
At this rate, 12 kilograms of granules can be inspected in less than an hour. A multi-track flap system reliably eliminates contamination as small as 30 micrometers in size across an inspection channel 60 millimeters wide.  As Markus Piepenbrink, sales manager at OCS GmbH, explained, "Contaminations are inspected and recorded across the entire RGB color spectrum. The granules passing through the pellet scanner are captured from every angle by the cameras." If any impurities such as black specs are found in the sample, the goods can be separated again until the required quality is met. Another advantage of the OCS system is real-time data transmission to production and process control as well as subsequent analysis of rejected pellets by additional analytical systems.
Greiwing added, "With this analyzer from market leader OCS, we are once again significantly increasing reliability. Our customers can rest assured that their separated goods are of the highest possible quality."
More information about SEPARATION AG at www.separation.group
More information about GREIWING logistics for you GmbH at www.greiwing.de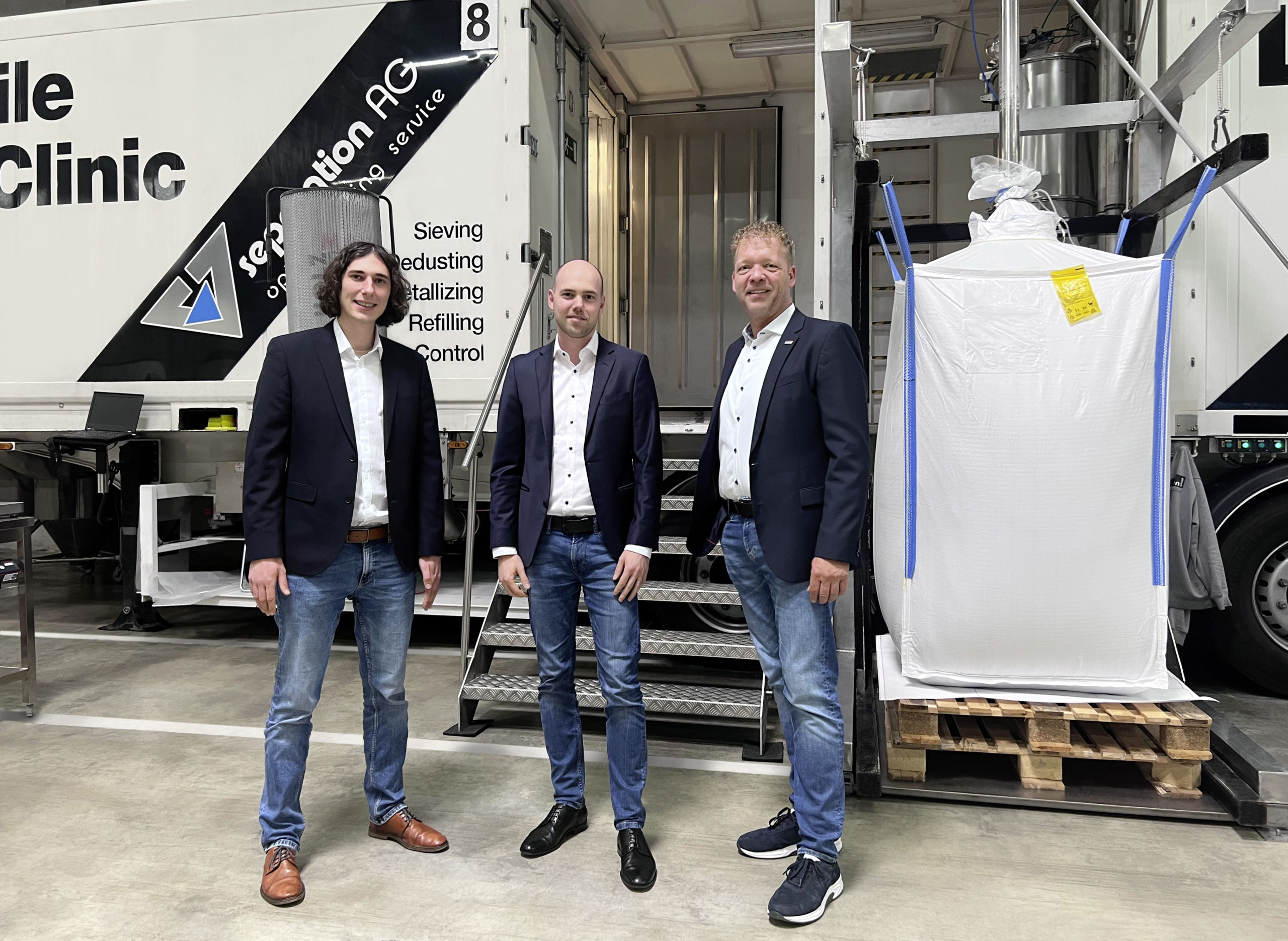 Captions:
From left: Mario Bortolussi, sales at SEPARATION AG, Markus Piepenbrink, sales manager at OCS GmbH and Jürgen Greiwing, managing director, are pleased with the successful cooperation and increase in quality thanks to the pellet scanner from OCS GmbH. (Photo: SEPARATION AG)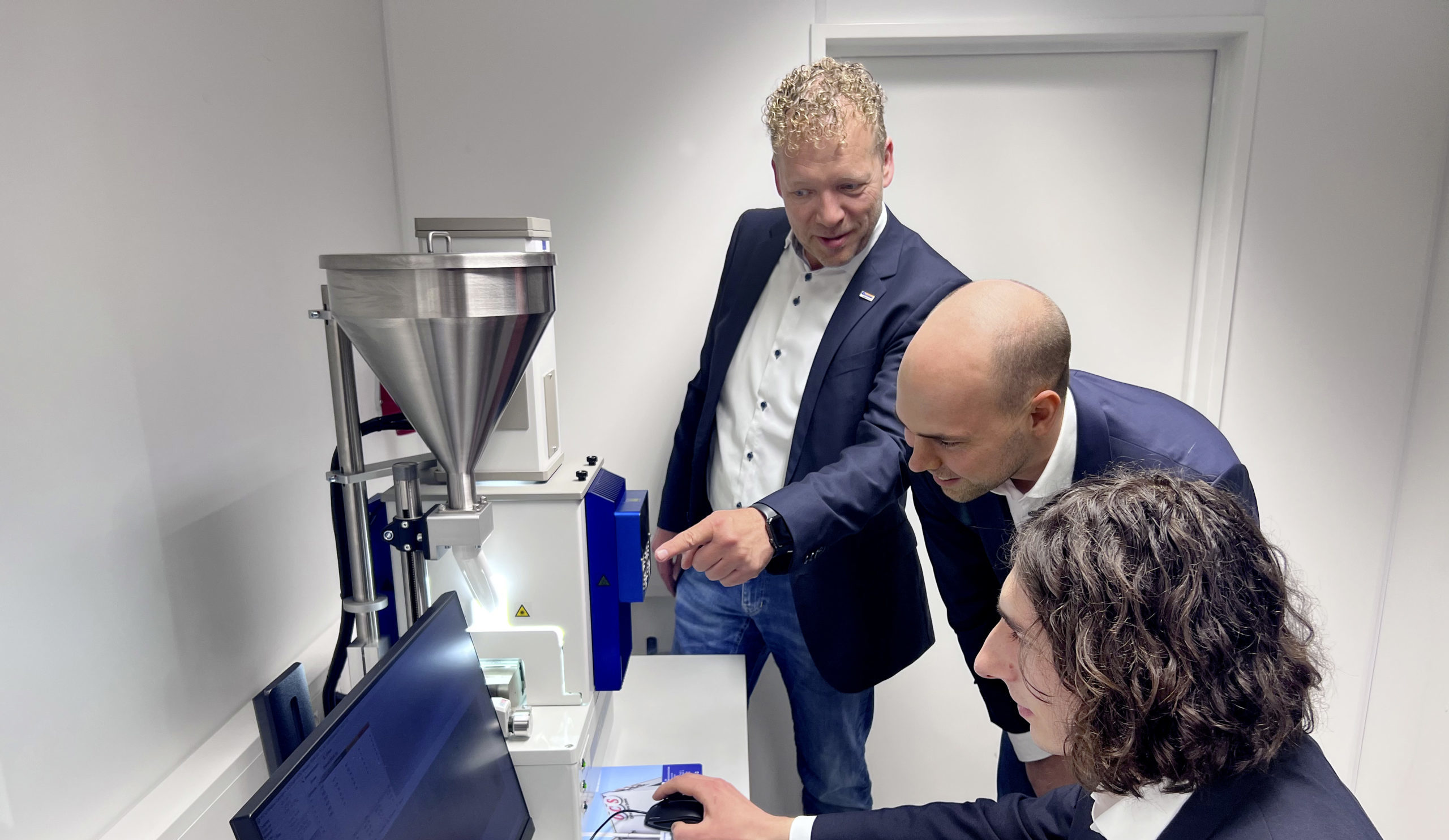 Captions:
From left: Jürgen Greiwing, managing director at SEPARATION AG, Markus Piepenbrink, sales manager at OCS GmbH and Mario Bortolussi, sales at SEPARATION AG (Photo: SEPARATION AG)
About GREIWING logistics for you GmbH:
In the more than 90 years since its founding in 1930, GREIWING logistics for you GmbH has developed to become an internationally operating specialist for integrated silo logistics solutions with its headquarters in Greven, North Rhine-Westphalia. The members of our company group include KTV Speditionsgesellschaft mbH and Separation AG. At over 20 sites across Germany and one site in Belgium, the group's workforce of more than 1,200 employees generates an annual turnover of more than 153 million euros. Our company group specialises in the chemical, plastics, food, paint and lacquer, and construction industries as well as in the handling of hazardous materials. Our portfolio of services offers conventional and combined transport, storage and handling. With the provision of value-added services, we as a logistics services provider can, to some extent, become deeply involved in our customers' value chains, for example with the sorting, homogenizing or drying of granulated products. To enable appropriate processing of all products, our company group maintains a pool of special equipment and facilities such as autoclaves and clean rooms and, unique in Germany, the granule sorting system in Wesel along with two Mobile Granule Clinics®.